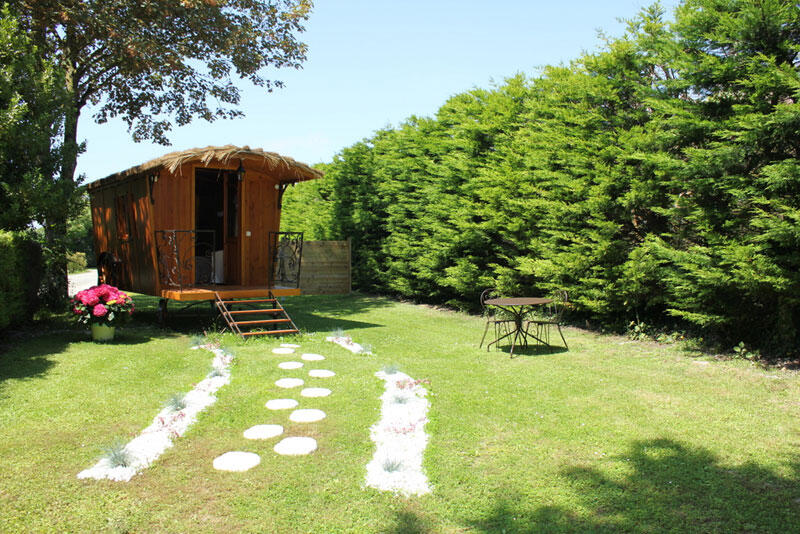 Camping les Couesnons
Graded campsite,
Gypsy caravan
in Roz-sur-Couesnon
From :
220€
Mobile home rental / week
A quiet, well-appointed, well-equipped site only 6 miles (10 km) from Mont Saint-Michel, in the picturesque polders. Pitches are marked out with flowering shrubs. Enjoy the meals prepared by the chef in his restaurant and pancake parlour. All services available 1st May to 15th September.
Capacity

Spoken languages
Equipment

Bike shelter
Motorhome service area
Jacuzzi
Water connecting points
Electricity connecting points
Water park
Children's games

Car park
Swimming pool
Heated swimming pool
Indoor swimming pool
Wi-Fi
Indoor swimming pool
Heated swimming pool

Services

Bar / refreshment bar
Ice depot
Bread depot
Hiking trail information
Caravan parking
Washing machine
Bed Linen hire
Mobile home hire

Bike hire
Picnic hampers
Ready meals
Reservation of additional facilities
Restaurant
Dryer
Site closed at night
Daily rate for motorhomes (2 adults, 1 pitch, 1 motorhome)

From 17 € to 45 €

Weekly rental (Chalet/Yurt/Log cabin or tree house/Holiday trailer)

From 220 € to 475 €

Weekly rental (Mobile home/caravan)

From 320 € to 950 €
From

April 8, 2022




until

November 6, 2022
Monday

9:00 AM - 12:00 PM

3:00 PM - 7:00 PM

Tuesday

9:00 AM - 12:00 PM

3:00 PM - 7:00 PM

Wednesday

9:00 AM - 12:00 PM

3:00 PM - 7:00 PM

Thursday

9:00 AM - 12:00 PM

3:00 PM - 7:00 PM

Friday

9:00 AM - 12:00 PM

3:00 PM - 7:00 PM

Saturday

9:00 AM - 12:00 PM

3:00 PM - 7:00 PM

Sunday

9:00 AM - 12:00 PM

3:00 PM - 7:00 PM